Announcements are updated on a weekly basis
OSPI NEWS RELEASE: REYKDAL: Students Can Continue Receiving Meals at No CostWashington Office of Superintendent of Public Instruction sent this bulletin at 08/31/2020 02:51 PM PDT
You are receiving this email because you opted to receive information from OSPI about this topic. To manage your subscriptionsclick hereHaving trouble viewing this email?View it as a Web page.
REYKDAL: Students Can Continue Receiving Meals at No CostToday, the U.S. Department of Agriculture extended several waivers that allow school districts to serve nutritious meals to students impacted by the COVID-19 pandemic. Superintendent Chris Reykdal's statement is below.OLYMPIA—August 31, 2020--Today, the United States Department of Agriculture (USDA) extended waivers that allow children ages 0–18 to receive breakfast and lunch at no cost through the end of December 2020.
With these waivers, schools can continue providing healthy, nutritious meals at no cost to all students who need them. Schools can continue using the processes they developed last spring, which resulted in more than 28 million meals being served to students who were learning at a distance. For schools that are providing distance learning this fall, these processes can include grab and go meals or meal delivery to homes. I encourage school districts to deploy additional transportation and food services staff to do this work. We have worked hard to ensure that transporting food to students and families is an allowable use of transportation funds following the proclamation released by Governor Insleelast week.
This pandemic requires our education system to be flexible and innovative in order to respond to student needs. I'm grateful to the advocates across the state who pushed for these waiver extensions with us. Washingtonians are working hard together to ensure our most vulnerable students and families have the food they need.
The USDA waivers extend the Summer Food Service Program through December 31, 2020 or until funds run out. We will continue our advocacy efforts to get the USDA and Congress to fully fund this program through the entire 2020–21 school year.
King County Eviction Prevention and Rent Assistance Program $41 Million in Funds
Department of Community and Human ServicesKing County has created a new program to assist households economically impacted by the coronavirus due to illness, loss of income or unemployment who have been unable to meet rent obligations and are at risk for eviction. Our region faces a looming eviction crisis of unprecedented scale. Tens of thousands of King County residents are at increased risk of eviction because of the ongoing pandemic and its economic effects. King County is responding by rapidly deploying a new rent assistance and eviction prevention program in partnership with community organizations.
Prevent evictions
Target limited resources to people most likely to become homeless after eviction
Target limited resources to people most likely to suffer severe health consequences as a result of eviction
Promote equity in who is served, with a focus on equity for groups of people who historically have not been provided equitable access to rent assistance and those disproportionately impacted by the COVID-19 outbreak.
King County will use several approaches to quickly serve as many households as possible.The rental assistance program will pay some large residential landlord properties and manufactured home parks in bulk payments for eligible tenants.
The program will also seek to distribute tenant rental assistance to smaller landlords whose eligible tenants qualify for assistance through a lottery process.
Funding will be prioritized for the highest-need individuals and zip codes in King County. High need zip codes are the zip codes in the top twenty percent of zip codes with continued unemployment claims per capita and/or the zip codes in the top 20 percent of COVID-19 deaths per capita.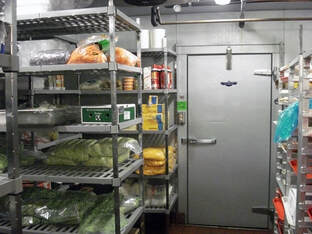 COLD FOOD STORAGE IS COMING SOON TO SKYWAY!
New Birth Center for Community Inclusion is partnering with Renton Innovation Zone-Partnerships to provide a Cold Foods Storage Un